Live Review: L.L. Cool J
The Ripper grants old school–new school graduate equivalency degrees in an hour or less.
The Beacon Theater, New York
Date: 6/20/2003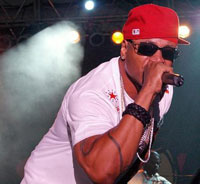 One... two... three... 20... by the handful, the ladies begin infesting the stage en masse. Following a humble invite from host LL Cool J to accompany him during "Doin' It," his infamous ode to the borough beauties of New York, several dozen of his most devoted subjects eagerly overtake the rap pioneer.
Pawing at him like the living dead, the throng force him to juke, dodge and scurry for cover mid-flow while security attempt to defuse the hotted-up horde through the song's denouement. It's all in a night's work for Cool James Smith, who, in his triumphant hometown return, goes from Queens Boulevard to Beat Street to Mack Daddy Avenue with a turn of his ever-present cap.
At 35, LL qualifies as a grizzled veteran in a genre with few elder statesmen, which encourages guarded expectations for his live set. But in 60 minutes, LL races through 20 years, 10 albums and what seems like five different incarnations in a furious stage show that harks back to hip-hop's infancy: two turntables, a microphone and a packed house prepared to party.
Fresh off a contract renewal with his label, Def Jam, earlier in the day, LL fires off a medley of crowd-pleasing cuts that range from "Rock the Bells" to "Phenomenon" to his verse on Craig Mack's 1994 remix of "Flava in Ya Ear" with a ferocity that evokes hip-hop's heyday as a motivator of butt shakers. Widely recognized now for his work as an actor entertainer—he'll next appear with Sam Jackson and Colin Farrell in the film
S.W.A.T.
—LL remains as much a true MC as ever, Moving the Crowd in the realest sense of the occupation on tracks like "I Can't Live Without My Radio" and "I'm Bad."
Interspersed amid the high-energy hauteur are performances by LL's Mr. Hyde, the smooth, greased-up crotch-grabber the female half of the audience paid to see. Flexing, thrusting and dousing water on himself through mam jams like "I Need Love," "Loungin'" and the aforementioned "Doin' It," LL stands as the only rapper in the history of the game who can hump the stage, then plausibly threaten to crush all comers "like a jellybean" and get away with it.
Therein lies the unique stage presence no other rapper can claim: half hard-core mic ripper, half jean-creaming sex machine. Constantly straddling the fence between Sisqó and Rakim, James Smith is about as close as hip-hop gets to James Brown, and we've got the heel marks on our backs to prove it.