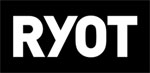 Could Urban Meyer Have Prevented the Murder of Odin Lloyd?
The former Florida coach claims to have done everything in his power to discipline Aaron Hernandez. He forgot that dismissal, suspension or so much as penalizing him playing time was within his power.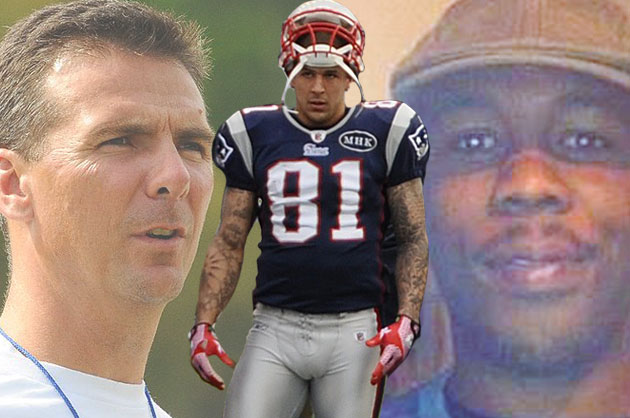 Despite Rolling Stone's cover-story bombshell last week, which proposes that a dependence on PCP may explain Aaron Hernandez's criminal behavior, the most damning details of the magazine's expose concern knowledge of the drug use — and a potential conspiracy to cover it up — by former University of Florida head coach Urban Meyer.
Meyer, a veritable Tony Soprano of college football, is a self-justifying sociopath who's always on the periphery of trouble but never has to answer for it. While harsh words are a matter of opinion, statistics speak for themselves: in just six seasons as the Gators' head coach, 31 of Meyer's players were arrested for offenses ranging from driving under the influence to burglary to assaulting women.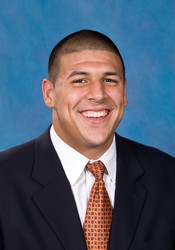 And now it appears that wasn't the worst of it.
An assault by Hernandez on a Gainesville waiter resulted in a ruptured eardrum. Repeat drug tests reportedly came back positive but resulted in no loss of playing time. A police report detailing a vehicular shooting in which Hernandez was associated doesn't even have his name on it.
This kind of behavior falls statistically outside "the top one percent of one percent" of recruits with which Meyer promised to pack the program upon taking over at Florida. But the heightened profile of the gig (his previous stops included Bowling Green and Utah) coupled with a level of success that momentarily made an idol of the otherwise dry-as-burnt-toast Ohioan, appear to have eased the decline of Meyer's stated principles.
Principles that — who knows — could have saved a man's life. As writers Paul Solotaroff and Ron Borges stated in the Rolling Stone article, Hernandez "concluded, with an abundance of probable cause, that he was untouchable." Both Meyer and John Hevesy, Hernandez's position coach, claim to have done everything in their power to rehabilitate the troubled Hernandez, evidently forgetting that so much as penalizing him playing time was within their power.
Turns out, that conclusion of untouchability is as applicable to Meyer as it is to Hernandez. When asked about what all of these developments have done to his reputation at July's Big Ten Media Day, Meyer inadvertently tipped his sociopathic hand.
"How do I view my own reputation?" Meyer said. "I don't view my own reputation. I guess a reputation is what others think of you."
Fine. We'll play your game, QuagMeyer. Why do you think these "others" of whom you speak have begun demonizing you and, more importantly, the football programs under your direction?
"I have no idea, Meyer said. "I've been asked many times. People say it's because we won a lot of games. They say it's because I'm very standoffish with the media. But I'm not sure."
Maybe prosecutors in the Odin Lloyd case should file murder charges against the media.
* * * * *
Now in just his second season at Ohio State, Meyer has four players who are facing legal action for assault, battery, underage alcohol possession and obstruction of official business — all charges worse than any of the player offenses that eventually got preceding coach Jim Tressel fired.
Here's your chance, QuagMeyer, to redeem past negligence. To do the right thing. To — oh, for f%#k's sake…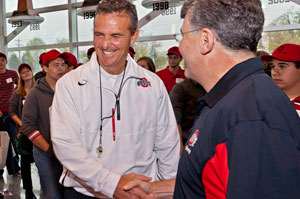 Instead, Meyer took the podium at Media Day with an air of smugness and adamancy that he and his staff bear no responsibility for player wrongdoing.
"To have a couple of knuckleheads make some decisions that reflect [on] the entire program," Meyer said of the implicated players, "It's something that bothers me, bothers our staff, and we work very hard to avoid with our players."
True to sociopathic form, Meyer selfishly advocated player accountability while absolving himself of it. Then he cited the program's reputation as a casualty, despite claiming not to care about such things.
Perhaps the NCAA should exhibit the integrity Meyer won't, and investigate the charges leveled at him and his staff. If there's any truth to Rolling Stone's report that Meyer covered up multiple failed drug tests to preserve Hernandez's eligibility, it's the most open-and-shut case for sanctions since the SMU scandal of the 1980s, and could result in scholarship reductions, vacated wins and the stripping of Florida's 2008 national title, under NCAA bylaws. Unfortunately, the NCAA is as toothless as Florida's fans.
"What's ironic is I was raised in a very tough, very disciplined home," Meyer recalled at Media Day. "No gray area whatsoever. I became a head coach at 36, went to Bowling Green… if there was any issue, I kicked him off the team. I go to Utah, same thing, very hardline. Then something happened."
Yeah, if only he could have identified that "something" in time, Aaron Hernandez might be preparing for the 2013 NFL season, or at least his next shift at Papa John's, instead of eating spaghetti at Bristol County Jail.
For that matter, perhaps tougher penalties for drug use could have spared a waiter's eardrum. Perhaps a sterner stance on assault could have prevented a shooting on a Gainesville street.
Perhaps stiffer discipline for attempted murder could have saved Odin Lloyd's life.
As the Rolling Stone article observes, "There was such hunger in that kid for a father's hand." But a father's hand is for smacking too, something Urban Meyer would do well to realize as he dispenses discipline to his newest crop of disciples.
After all, the next life he saves could be your own.