Wounded Warrior Soldier Ride Shreds for Country, Free Food
Disabled vets put New York bike messengers to shame.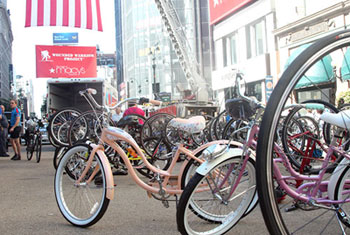 If you know anything about Manhattanites, you know that you can't usually get one to hop a cab to Brooklyn, much less power himself there via hand-pedaled bicycle. But on Thursday, around 40 disabled veterans from around the country rode from Broadway to Bensonhurst on bikes of every adaptation in the first leg of the Wounded Warrior Project's Soldier Ride to the eastern end of Long Island.

Starting at Macy's on 34th Street in Midtown, hobbled but hardy vets of the wars in Iraq and Afghanistan pedaled the length of Manhattan before crossing the Brooklyn Bridge into one of New York City's most storied neighborhoods.

In their own time, of course. (Hey, you try hand-pedaling your ass through the Financial District.)

"The ride, it's a lot of dudes at different stages (of recovery)," said John Pruziner, an Iraq War vet on his seventh Soldier Ride. "So you're going to be riding as fast as the slowest guy, and that's the nature of the beast."

As a result, that beast didn't arrive in In the historically-Italian Bensonhurst of Welcome Back, Kotter, The Honeymooners, French Connection car chases and Sbarro restaurant until well after the expected time, leaving a loosely tethered patchwork of loitering spectators and practicing bagpipe players to fend for themselves for well over an hour. But when the first Wounded Warriors rounded the corner onto 18th Avenue for the ride's three final blocks, it was as if the throng of onlookers had been choreographed.

Hundreds of spectators unconsciously stood at attention, forming a human corridor through which the vets pedaled to the finish amid saluting, cheering, clapping and other forms of patriotizing. It was the sweetest goddamned thing you ever saw and it couldn't possibly have happened just 10 miles west of here, where the surfeit and cynicism of New York City would have turned this deleted scene of Americana into a no-access movie premiere.



"Everybody you run into at these things is always real nice," said Pruziner. "The cities that host them are very gracious. You get a police escort. It's good therapy for everyone."

And he could use it. On September 11, 2007, Pruziner and his unit were ambushed in South Baghdad by an IED.

"They blew it and my leg came clean off. My arm caught a piece of rebar in it. My intestines actually ruptured in the concussion. Both my eardrums were blown."

So we flanked him with former Maxim Hometown Hotties contestants Meg Blasi and Mary Mirtallo for his trouble. The two were the envy of the field, riding Schwinn cruisers that compelled one participating vet to take one for a test ride, while a NYPD chopper aerobatically strafed overhead in honor of the event.

This weekend, the group will take the ride to the Hamptons, along with upwards of 1,000 other riders, completing the 70-mile circuit begun on 34th Street in Manhattan.

"People come out in droves to ride with the Wounded Warriors," noted Chris Roberts, Director of the Wounded Warrior Project's Soldier Ride and an Afghan War vet himself. "So our object is to enhance that in 16 different cities across the country and hopefully raise some more money so we can push that back into the other programs and services."

Perhaps the most important service provided by the Wounded Warrior Project is the sense of community that comes from banding with the few others in the world who can identify with your experience. Iraq War vet Bryan Coe rides whenever he can, citing the unity—and unexpected slapstick—of the event.

"Everybody here is great, whether they lost an arm, lost their leg, everybody can joke about their disability. Because outside this organization, people are going to be upset and offended—understandably—so everyone here is joking around, having a good time."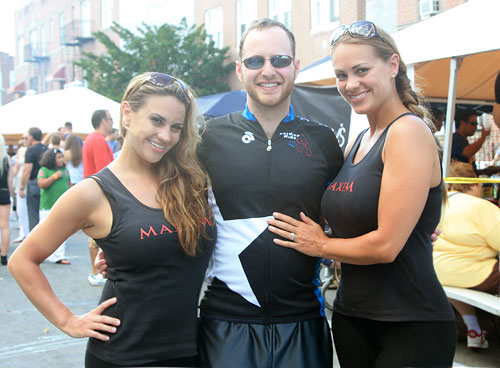 Plus, no man is ever left behind. On the battlefield or on 70th Street in Brooklyn.

"My bike broke down with about two miles to go before the end and I couldn't catch up," recounted Coe, "so I just hopped in the car."



OK, so it's not a convoy through the RPG-strewn streets of Kabul, but these guys have earned a lifetime pass. Coe was shot in the hand during an ambush at Baghdad International Airport, losing upwards of 90 percent of his thumb. Another rider, Matt Afuola, who enlisted a month and three days before the World Trade Center attacks in 2001, suffers the less obvious disability of post-traumatic stress.

"I was injured once in an ambush, shot in the leg," Afuola, who wears a bracelet honoring his fallen comrades, recalls. "Nothing serious. I'm lucky; I have all 10 fingers, all 10 toes, both arms and legs. I'm blessed to say that; some of my friends aren't. I would ride a bicycle 500 miles for them.

It's that feeling that anecdotes and press releases and internet articles simply can't convey.

"People have to come out and see what it is we do," said Roberts, "to see the Warriors on the bikes, on the hand cycles, their struggles and their triumphs through the ride. We try to explain what we do in words, but people don't get it until they come out and see it."