English Muffing
It's a parallel freakish in its verisimilitude (look it up, Oregon State fans). Two-loss Tennessee is visiting undefeated Alabama this Saturday. Simultaneously, Secretary of State
Condoleezza Rice is also visiting Tuscaloosa with British foreign secretary Jack Straw in tow
to preside over the customary coin flip, and enjoy a spot of 32-ounce stadium tea and biscuits. While the acrimony shared by the Crimson Tide and the Volunteers isn't quite the same sentiment shared between Team America and the Fighting Ascots, there are striking similarities…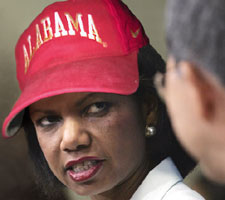 "With all due respect to the delegate from
Estonia, Roll Tide, bitch."
Wins/Losses
The United States is undefeated—just like Alabama—in wars declared.

The U.K. has two losses—just like Tennessee—in nonconference wars against the United States.

The Polls

Among the world's nations in lemon production—just like Alabama—America is ranked No. 5 (No. 6 BCS).

Great Britain is ranked 17th—just like Tennessee—in global skin translucency.

Progressiveness

Condi Rice has chosen to take Jack Straw to Alabama because of his professed interest in the civil rights movements of the 1950s and '60s.

Jack will be positively delighted when he steps right into the very same Alabama of the 1950s and '60s!

Milestone Victories

The U.S. won its independence from England in 1776.

Alabama won the Independence Bowl in 2001.

Job Security

Prime Minister Tony Blair was just a handful of Parliamentary seats from losing his job last May.

Vols QB Rick Clausen is just a whimsical Phil Fulmer pork rib fart from losing his job this Saturday.

Gamesmanship

Alabama effectively uses play action passing to keep defenses honest.

England got suckered into sending 9,000 troops into a phony war with Iraq.

Healthcare

The British are renown for their awful teeth.

Alabamians are renown for their six teeth.

Homeland Security

Tennessee can salvage its season by stealing a win on the road over its biggest SEC West rival.

If Jack Straw tries to sneak a Ziploc bag of GlenLivet, tucked in his pants, into Bryant Denny Stadium as planned, he'll be shot on sight against a student chorus of "Na, na, na, na…hey, hey, hey…goodbye."

Intangibles

Like Tennessee, England is really good as a country and all, but…

Like Alabama, America kicks foreign ass as a country. (Fuck yeah!)