Ghostface Killah Live
Wu-Tang's supreme soloist puts it down for both old and new clientele.
Nokia Theatre, New York City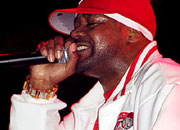 Topping a ticket undercarded by hardened hip-hop legends like Slick Rick and DJ Premier, Dennis Coles—a.k.a. Tony Starks... a.k.a. Ghost Deini... a.k.a. Ghostface Killah—could have relieved himself on stage then read from the collected Dr. Seuss and still have given attendees at New York's Nokia Theatre a fair return on their investment. (And subsequently infringed on U.S. Patent No. 6,048,137, held by R. Kelly.) But the most prolific member of Wu-Tang has never been content to mail in a studio album, and he wasn't about to text in a live performance in his hometown.

Without gimmicks, guest MCs or a 10:1-scale pyrotechnic crack lab backdrop, Ghost ripped it from the opening number, "Be Easy," a brisk, Pete Rock–produced throwback that will no doubt dominate the clubs through year's end. With real hip-hop heads in attendance whipped into a frenzy, GFK ran through his manifold aliases on songs like "Nutmeg" (Ghost Deini), "Ice Cream" (Tony Starks) and an especially pained a cappella recitation of "Wildflower" (Ironman).

Ironman, it'd be nice to have heard Ghost throw down more than the one track ("Wildflower") from what many believe to be his finest effort. Of course, there's another school of thought that suggests we consider ourselves lucky he didn't dip into Yertle the Turtle.
See also:
Ghostface-to-Face