Golden Showers of Praise for Tim Tebow
Middle-aged men usually have to loiter around airport bathrooms to drizzle this much love on young men.
Tim Tebow's third-down runs have healed lepers. His golden arm has turned pigskin into pinot noir. And now, Tebow's supernatural spirit, irrepressible will to win and Biblically supple lips are arousing the journalistic boners of sportswriters, broadcasters and other assorted commentators nationwide. If you watched Fox's broadcast last night of college football's BCS National Championship Game, you were treated to Tom Brennaman's almost perverse plaudits upon Florida's quarterback. But that was only the opening drive...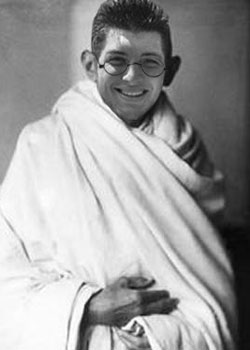 Tom Brennaman, Fox Sports
"In such a cynical, sarcastic society, oftentimes looking for the negative on anybody or anything, if you're fortunate enough to spend five minutes or 20 minutes around Tim Tebow, your life is better for it."

Andy Staples, SI.com
"In many ways, Tebow is Florida's [King] Leonidas. He always volunteers for the toughest task. He inspires unflagging loyalty in his men. And it seems that the only way to stop him is with an army of thousands."

Pat Forde, ESPN.com (twice in four days)
"Tim Tebow's victory tour of Dolphin Stadium started behind one end zone and didn't stop until he reached the opposite end. As he walked along, his golden left arm remained aloft the whole way for Florida fans to touch."

"It truly would be a shame to submit to cynicism and not fully appreciate the gift of Tebow... In this one instance, what looks too good to be true really is true... Appreciate the Tim Tebow experience, Sporting America."

Mark Kriegel, FOXSports.com
"With this season in evidence, I submit that Tebow's greatest gift isn't physical. Rather, it's the ability to instill belief… He makes you believe."

Linda Robertson, Miami Herald
"Why be a backup, a cog or a question mark [in the NFL] when you can renew your term as president of Gator Nation? College football needs its best player—not just his incomparable combination of skills, his charismatic leadership and his uncanny winner's edge, but his idealism as well… He ought to stay in Gainesville. He often talks about the bigger, cosmic picture. He's on a crusade to do good. He can do that more effectively in college than in the pros."

Randall Mell, South Florida Sun-Sentinel
"This was far from Tebow's triumph alone."

Wait, what the fuck? Stick to script, assholes…

Bill Platschke, Los Angeles Times
"For a couple of wonderfully antique hours Thursday, this is the perfect player who made us forget college football's imperfect system… It's almost as if Tebow is a dream come true."

The only shame in all of this is that it's too late for Tebow to become America's first black president.