Maxim's 2009 College Football Preview
In college football, every weekend boasts a bowl-worthy game. But in a sea of helmet-clashing awesomeness, who's to say which games rule? We are.
September 5: ALABAMA vs. VIRGINIA TECH (at the Georgia Dome in Atlanta)
The year's first huge match-up is guaranteed to bring the winner early national title hype.
Series record:
10-1, Alabama
Rivalry highlight:
The Hokies' lone win came after 10 tries, in the 1998 Music City Bowl. Before that the Tide had outscored Tech 346-70.
Ultimate pregame:
RVs start rolling into the Georgia Dome's yellow lot and Marshalling Yard as early as 6 a.m. Set your alarm!
When in Rome:
It's a neutral site, so pick a side. If you're for Tech, pack a handheld turkey call. 'Bama supporters, be prepared to sing the school's victory chant: "Rammer Jammer, Yellowhammer, give 'em hell, Alabama!" (It was written in the '20s—cut 'em some slack.)
X-factor:
Advantage Hokies, says New York Times college football writer Pete Thamel: "'Bama's play without departed OT Andre Smith in the Sugar Bowl didn't bode well for the immediate future of the program." Snap!
September 12: USC at OHIO STATE
The Bucks get a do-over of 2008's most disappointing game, on their home turf.
Series record:
12-9-1, USC (won the last six)
Rivalry highlight:
With SC coach John McKay about to speak at a 1973 Rose Bowl pregame luncheon, legendary OSU coach—and master of icing opponents—Woody Hayes walked out, saying, "I have to go to work. Put John's words on tape for me."
Ultimate pregame:
This year's closure of Hineygate (boo, OSU administrators!) leaves nearby Varsity Club to pick up the pieces/discarded bras of this weekly 25-year-old Buckeye Mardi Gras.
When in Rome:
If you don't cover yourself in red and shave an O into your head, you may as well drape yourself in a Michigan flag. You've been warned.
X-factor:
"SC will be breaking in an inexperienced QB," says ESPN College Gameday analyst Kirk Herbstreit. "And the Bucks have been embarrassed on the big stage the last several years. This is their opportunity to earn some street cred back."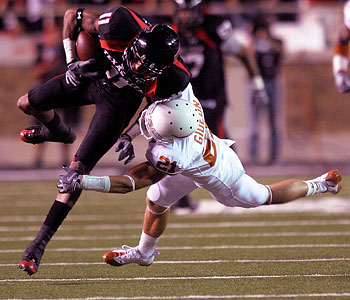 September 19: TEXAS TECH at TEXAS
The Longhorns will be out for blood after last year's heart-stopping, last-second, year-end-highlight-reel-making loss courtesy of Michael Crabtree.

Series record:
43-15, Texas
Rivalry highlight:
Tech's pep group used to greet rivals at the airport with a red carpet and friendly applause. But in 1978, having lost two in a row at Tech, UT players pushed the welcome wagon aside—literally—and walked the tarmac instead.
Ultimate pregame:
Start at Austin's Scholz Garten—a 143-year-old mecca for beer and brats—then make your way to the teeming tailgate tent city of MLK Boulevard.

When in Rome:
Join loyal Longhorns as they taunt black-clad TTU fans—who haven't witnessed a victory here since '97—with shouts of "Lubbock clap" and "Raider rash."
X-factor:
According to Thamel, revenge is on the menu: "The Longhorns surely won't forget who robbed them of a shot at the national title last season."
October 10: FLORIDA at LSU
The Gators march into Death Valley for the SEC's biggest yearly clash, which could decide its fifth championship in seven years.
Series record:
29-23-3, Florida
Rivalry highlight:
Battling back from three 10-point deficits in '07, LSU scored two TDs on fourth downs and another after a fake field goal to win 28-24.
Ultimate pregame:
Kick things off with 11 a.m. Bloody Marys at famed local brewpub the Chimes, but don't hang around too long: Tailgating in Baton Rouge means wandering its RV wilderness mooching hooch, jambalaya, and gumbo.
When in Rome:
If you see anyone wearing colors other than purple and gold, yell "Tiger Bait!" at them relentlessly to strike fear or, at the very least, mild irritation.
X-factor:
Herbstreit gives the Tigers home-field advantage: "This will be Florida's toughest game all year. No matter how talented you are, you have to prove it by getting out of Baton Rouge alive."
October 17: OKLAHOMA vs. TEXAS (at the Cotton Bowl in Dallas)
This annual game has decided 11 national championships and has featured more match-ups between top-five teams (four) this decade than any other.
Series record:
58-40-5, Texas
Rivalry highlight:
In 1976, when President Ford walked onto the field with Darrell Royal—the winningest coach in UT's history—and OU's Barry Switzer, a Sooners fan yelled, "Who are the two assholes with Switzer?"
Ultimate pregame:
The State Fair of Texas; slug beers, corn dogs and grabby carnies, then ride the Zipper, or win your date a stuffed sweatshop bear.
When in Rome:
Another neutral site, another tough choice: Yell out the time and hear Texas fans answer, "…and OU still sucks!" Or throw up inverted hook-'em horns, Sooner-style. Just make sure that your thumb's tucked in —unless you're trying to say "I love you" to opposing fans.
X-factor:
None! Herbstreit says it's either team's game: "This is a nasty rivalry, but after last year's controversy, with the Longhorns winning but the Sooners going to the title game, it's the most anticipated match-up of the year. And most major players are back."
October 24: TCU at BYU
If BYU catches Oklahoma sleeping opening weekend, this game could be a de facto playoff to see which midmajor gets shut out of the BCS title game.
Series record:
5-3, BYU
Rivalry highlight:
In 2005 TCU's Horned Frogs battled back from 18 points down to win 51-50 in OT, scoring touchdowns on their final four drives of regulation.
Ultimate pregame:
Church. BYU fans are famous during bowl season for entering town with a fifty in one hand and the Ten Commandments in the other—and not breaking either.
When in Rome:
Rise and shout with the crowd when the Cougar Fight Song tells you to, or identify yourself as a nonbeliever.
X-factor:
Once again it's all about payback. "BYU QB Max Hall is a legit Heisman candidate," says Thamel, "and TCU still eviscerated him last year. This game is a chance to get back at them."
October 31: USC at OREGON
A Michigan columnist once wrote, "Autzen Stadium is where great teams go to die." It proved true for USC two years ago. Will the bell toll for the Trojans again?
Series record:
37-16-2, USC
Rivalry highlight:
When the Ducks scored to take a 23-10 lead in '07, the crowd noise was recorded at 127.2 decibels—louder than a jet at liftoff.
Ultimate pregame:
No need to head off-campus. During the week the Moshofsky Center is the Ducks' indoor practice facility, but on game days it becomes a 117,000-square-foot house party.
When in Rome: Not enough of a nuisance on your own? Pack a foghorn. After touchdowns the stadium erupts into a chorus of them, from the booth's PA to the parking lot's RVs.
X-Factor:
"Last time SC went into Eugene, the environment got the best of them," says Herbstreit. "[QB] John David Booty was injured, and a young backup, Mark Sanchez, came in and couldn't get it done. This year they're playing another first-year QB. There's a lot at stake."
November 7: OHIO STATE at PENN STATE
Get ready for a whiteout! Seriously, these are two of the whitest fanbases in the country.
Series record:
12-12
Rivalry highlight:
With nine minutes left in their first-ever meeting in 1912, Ohio State coach John Richards—with his team down 37-0—forfeited the game, citing Penn State's brutal tackling. The Buckeyes' panties stayed in a bunch until the two teams next faced one another, in 1956.
Ultimate presume:
Ditch the PG-13 alumni scene of the Beaver Stadium parking lot for the triple-X throw-downs of the intramural fields and flower gardens across Park Avenue.
When in Rome:
If you forget what school you're visiting, just bark, "We are!" Thousands of Nits fans in the immediate vicinity will be happy to reply, "Penn State!"
X-factor:
It's another tossup: "These are the Big Ten's most talented teams," says Herbstreit. "Penn's Daryll Clark is the top QB in the conference, and Buckeye genetic freak [QB] Terrelle Pryor—who's from PA—will generate a lot of hype upon his return home."
November 27 (Friday): ALABAMA at AUBURN
The nation's fiercest rivalry may not decide a national title, but it will decide which half of the state has to endure gloating yokels all up in its grill for the following 364 days.
Series record:
39-33-1, Alabama
Rivalry highlight:
The 1972 Iron Bowl. No. 2 'Bama was up 16-0 with 10 minutes to go when a Tigers field goal, followed by two blocked punts returned for scores, won it for AU, 17-16.
Ultimate pregame:
Every game day 120,000 people turn out for an 87,000-seat stadium, leaving the RV lots nearly as full during a game as before it. Come for the free food; stay for the free beer.
When in Rome:
Pack a roll of toilet paper in case Auburn wins, then head down to Toomer's Corner (named for a local drugstore that's become an institution), where victorious fans roll trees, streetlights, and anything else that crosses their path.
X-factor:
According to Thamel, "This game will be a great showcase for one of the best coaches in the SEC, Alabama's Nick Saban, who will be going up against one of the most baffling hires in SEC history in Gene Chizik."
December 12: ARMY vs. NAVY (at Lincoln Financial Field in Philadelphia)
For the first time in recent memory, the Cadets and Midshipmen have the national stage all to themselves. (Luckily, Army's record is better overseas.)
Series record:
53-49-7, Navy (won last seven)
Rivalry highlight:
One year a group of Middies disguised as Cadets sneaked into West Point and swiped four mule mascots—leaving their handlers bound—and paraded them at Navy's pep rally.
Ultimate pregame:
Get thee to the stadium for some good ol'-fashioned shock and awe. Three hours before kickoff, 6,000 to 7,000 Midshipmen and Cadets march into the Linc in lockstep, followed by fighter jets, Apache gunships, and paratroopers overhead.
When in Rome:
Can't fake this one. Earn your stripes or shut up and cheer for both sides. Either one'll fight your battles for you. Wuss.
X-factor:
"Army's hired Rich Ellerson, who took Cal Poly to the Division I-AA playoffs," Thamel says. "This will be their chance to show how far they can go."