Earls of Hurl: Tom Seaver
We grabbed a moment from each living member of baseball's exclusive 3,000-strikeout club. A moment neither of them will ever get back.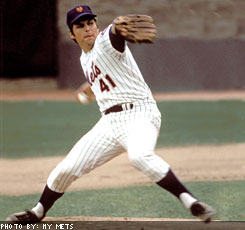 The object of a bidding war between four teams, 1967's eventual NL Rookie of the Year, Tom Seaver, was drawn from a hat by Commissioner William D. Eckert and shipped to Flushing, Queens. Seaver's loss was the Metropolitans' gain. Arguably the best player in Mets history (all due respect to Vinegar Bend Mizzell), Tom Seaver did for the fledgling New York franchise what cocaine did for Darryl Strawberry before the come-down, leading them to an improbable 1969 World Championship, earning himself three Cy Young Awards, and leading the league in strikeouts five times. We served him up some meatballs—this is what came back.
Say, you used to pitch. What was that like?
The first thing you do as a pitcher when looking at a hitter is identify weaknesses. Where are the weak spots?
Well, for us, it's thighs and buttocks—er... that was rhetorical, wasn't it. Was that weird? Never mind, please continue.
You can look at a hitter at the plate and "see" outs—in the space out in front of him, over, in front of, and on the plate. You can just sense them. Beyond that, it's like a poker game: Do you play that card to strike him out with two outs and nobody on, or do you strike him out with a runner at third and one out? It's about what you try to do and when you try to do it.
If pitchers are so great, how come none of 'em can finish a game?
The game's evolved that way. The management, front office, and managers have gotten everything so specific that they now look for reasons to take a pitcher
out
as opposed to leaving him in, which doesn't make any sense to me. But a lot of that is financially driven—these setup men, and closers, and all these other names you give them, you have to justify their salaries. Talk to Gaylord Perry or Bob Gibson; the manager would come out to the mound and they'd tell him, "What are you doing out here? I'll let you know when I'm done." That's the way the game used to be. Now, six innings is sufficient work. Why would you want to hand the ball over anyway? You don't want to give the ball up.
We tried telling Tom Green the same thing—deaf ears. So how do you make your case for staying on the mound?
Tell the manager to get the hell out of here!
[Laughs]
Plain, concise, to the point. Plus, we can dance to it. But what about the designated hitter?
I think the fans love it, and as far as the game goes, I think it's just awful. I want a player on the field that can play both offense and defense, and the thought of having some guy just because he can hit or just because he can pitch... The other side of that coin is that I spent the last couple of years of my career in the American League when I was older, and having the DH kept me in the game longer. I don't love the DH, but it probably did help me get to 300 wins.
Spoken like a true congressman. So what happened to the All-Star game, man? Where's the love?
All I can go from is the history I come from, and I went to over 10 All-Star games, and you played to win. You play to win.
Guess ties don't count, huh? So is the game a write-off, like our Cher box set? (Strictly for research purposes, of course.)
Well, it has progressed that way. There
was
great pride in it. Now it's more theatrical. Look at all the events before the game, the day of the game, and the home run derbies—it has all this Hollywood flash to it, and the game becomes insignificant. Whereas when I played back in the '60s and '70s, the point was to kick the other league's rear end. That's what we tried to do and it was important. Now the game's part of some big picture hype and celebrity.
Why won't anyone think of the children? So, you can level with us: Who owned you?
Well, there were certainly hitters that were successful against me—Willie McCovey, Willie Stargell, Ted Simmons, a whole group of others. One of the things I used to do was apply the [Casey] Stengal theory the way he did to Ted Williams, which was: take Williams out of the equation in the last nine outs of the ballgame. I would try to take William McCovey out of the last nine outs of the ballgame. Just don't let that individual beat you. That's all part of what pitching was about: figuring out where your percentages were against the guys that you had the most trouble against. Eliminate the most difficult out in the last nine outs of the ballgame and improve your odds.
Elimination! Now you're talking! So, what would you do? Throw ninja stars at them instead? Put gunpowder in the baseball?
Well, there are different levels of that. Are you seeing outs from this guy? Is he a tough out today? Has he been hot lately? All these things are going into your computer, which you're trying to figure out in the space of seconds, and you say, "Don't pitch to him in this situation," or "Yes, go ahead and pitch to him in this situation." If he's gonna beat you, then make him beat you by hitting the ball to the opposite field.
I pitched to the Giants one day in San Francisco. Willie McCovey was up and he was one of the most difficult outs in the league for me. There were two outs and a full count, and I'm a young, fastball pitcher. I said if it's ball four, I walk him and force a run in, but I really felt if I threw a fastball in that situation, he was such a good fastball hitter that the chances of a grand slam were huge. So I figure I win, even if I walk in a run. So I give him a changeup. He was cranking from the second the ball left my hand—fooled him. He swung and missed, and his eyes came back to me and visually said, "Where in the world did that come from?" It doesn't make a difference if I walk him—I still win.
And, in this game, we're all winners. Except for the Mets. Hey, wait! We still have more questions!